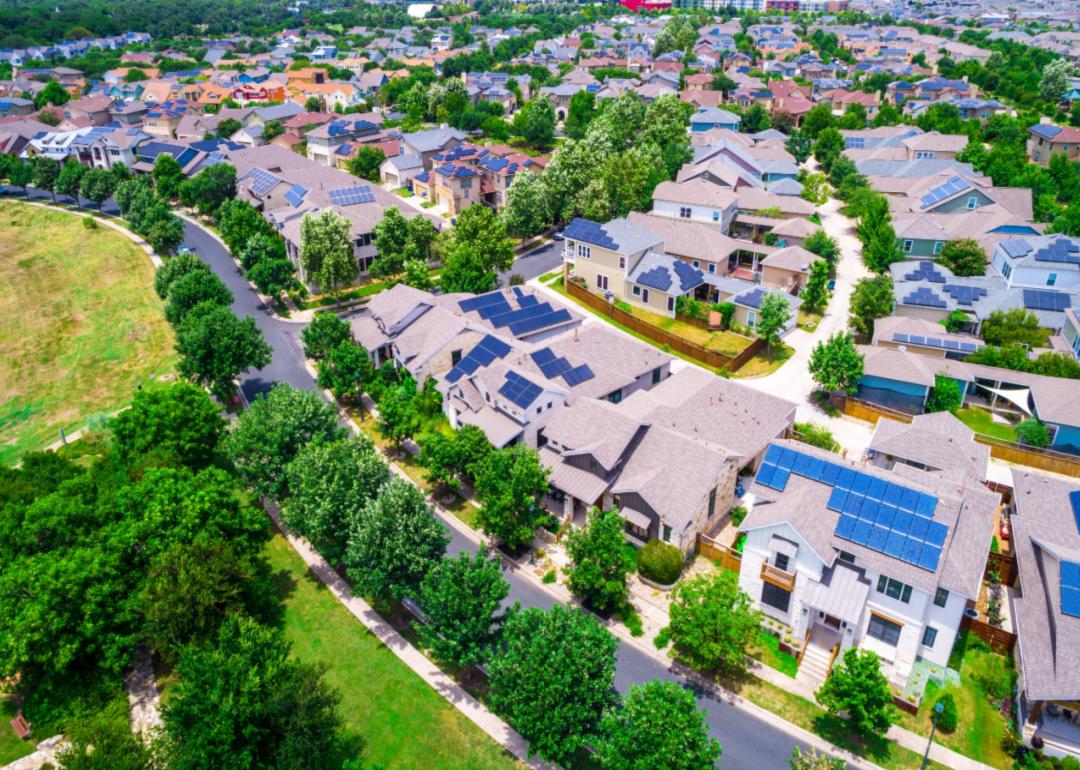 Roschetzky Photography // Shutterstock
Over the past 10 years, solar energy has experienced growth of 33% on average every year in the United States. As of 2021, there is enough solar capacity installed in the country to power 23 million American homes.
To get a bead on this clean energy trend, Stacker investigated how solar home energy has grown in the U.S. over time using data from the Energy Information Administration and other sources. Year-over-year growth can be explained, in large part, by the accumulation of several factors, including lower costs for systems, growing environmental consciousness around the environmental implications and impacts of energy development and use, and increased awareness of the cumulative energy savings solar offers.
Federal and state-level incentives, such as the Federal Tax Credit for Solar Photovoltaics, have bolstered affordability and accessibility, particularly for private residential consumers. The Biden administration's Inflation Reduction Act, signed into law in August 2022, included various benefits designed to urge homeowners to "go solar," including expanding the aforementioned federal solar tax credit from 26% to 30%. The act could provide the momentum needed to keep solar energy on the rise in the U.S., despite recent indications of a plateau; fewer homeowners have considered installing solar energy systems over the past 12 months, despite the growth of the last decade.
Solar-based cash flow isn't just going toward consumers saving money on energy bills or manufacturers selling panels. Solar energy is growing as an industry unto itself, creating jobs for hundreds of thousands of workers, both domestically and abroad. As of 2021, over 255,000 Americans are employed in the solar market across 10,000 companies spanning every single state.
The volume of solar panel system shipments in the US, as measured by capacity, has increased more than tenfold during the last decade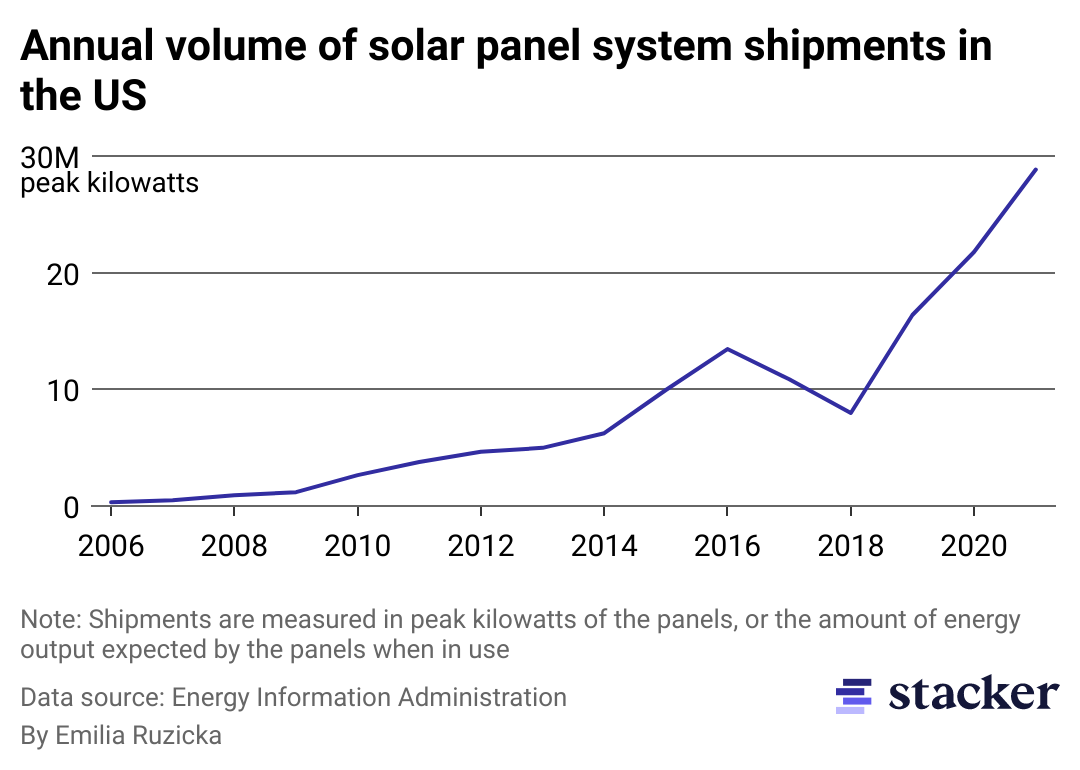 Emilia Ruzicka
The falling cost of solar paneling over the past decade has rapidly increased demand for the systems amongst both private and commercial consumers, leading to a spike in shipments. Shipments of solar panel systems, as tracked by the EIA, are measured by the amount of energy the panels are expected to emit in peak kilowatts once installed. Despite the larger upward trend, however, shipping constraints and supply chain blocks over the past 18 months have presented challenges.
While a June 2022 executive order from President Biden paused tariffs on solar imports from Southeast Asia through 2024—ostensibly increasing shipments—it came on the heels of the Uyghur Forced Labor Prevention Act of 2021, which delayed the deployment of panels due to heightened restrictions toward and more stringent measures against any and all imports potentially produced through forced labor.
The Inflation Reduction Act, on the other hand, which provided lucrative tax incentives on solar energy systems, has helped 2023 growth projections for supply and shipment. In 2021, five states—California, Texas, Florida, Georgia, and Illinois—made up nearly half of all U.S. shipment destinations for solar panels, which reached a record high of 28.8 million peak kilowatts that year.
Solar panel systems now cost less than 10% of the price per peak watt compared to 2006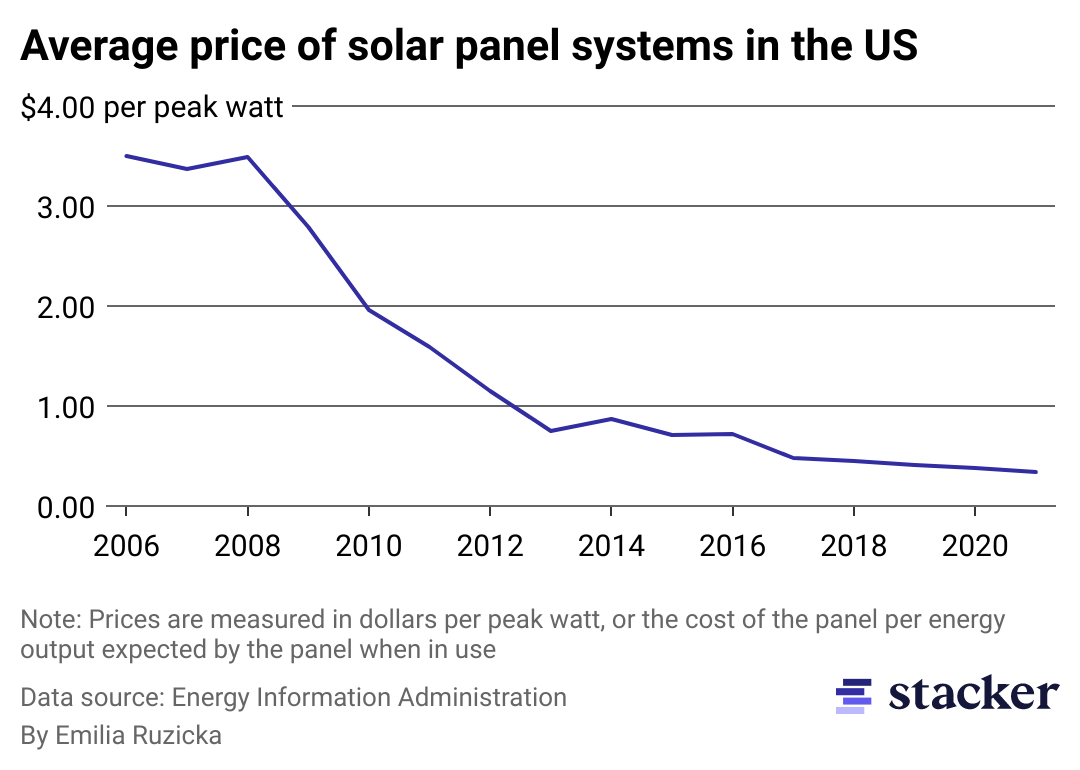 Emilia Ruzicka
Over the past 10 years, solar installation costs have dropped by 60%, dramatically increasing accessibility and demand for panel systems. The average residential solar panel system went from costing around $40,000 in 2010 to $20,000 currently. Federal and state solar tax credits have made solar energy systems even more affordable, particularly for private residential consumers.
Though soft costs—including permits and inspection—remain relatively high in the U.S., programs such as Solar Automated Permit Processing, or SolarAPP, aim to stabilize these prices. Additionally, solar energy systems are perceived to offer not only current, but also proactive savings. When asked about their motivation to install or consider installing solar panels, 92% of homeowners cited saving money on future energy bills as a primary reason.
Recent legislation to invest in clean energy gives taxpayers a 30% tax credit to "go solar"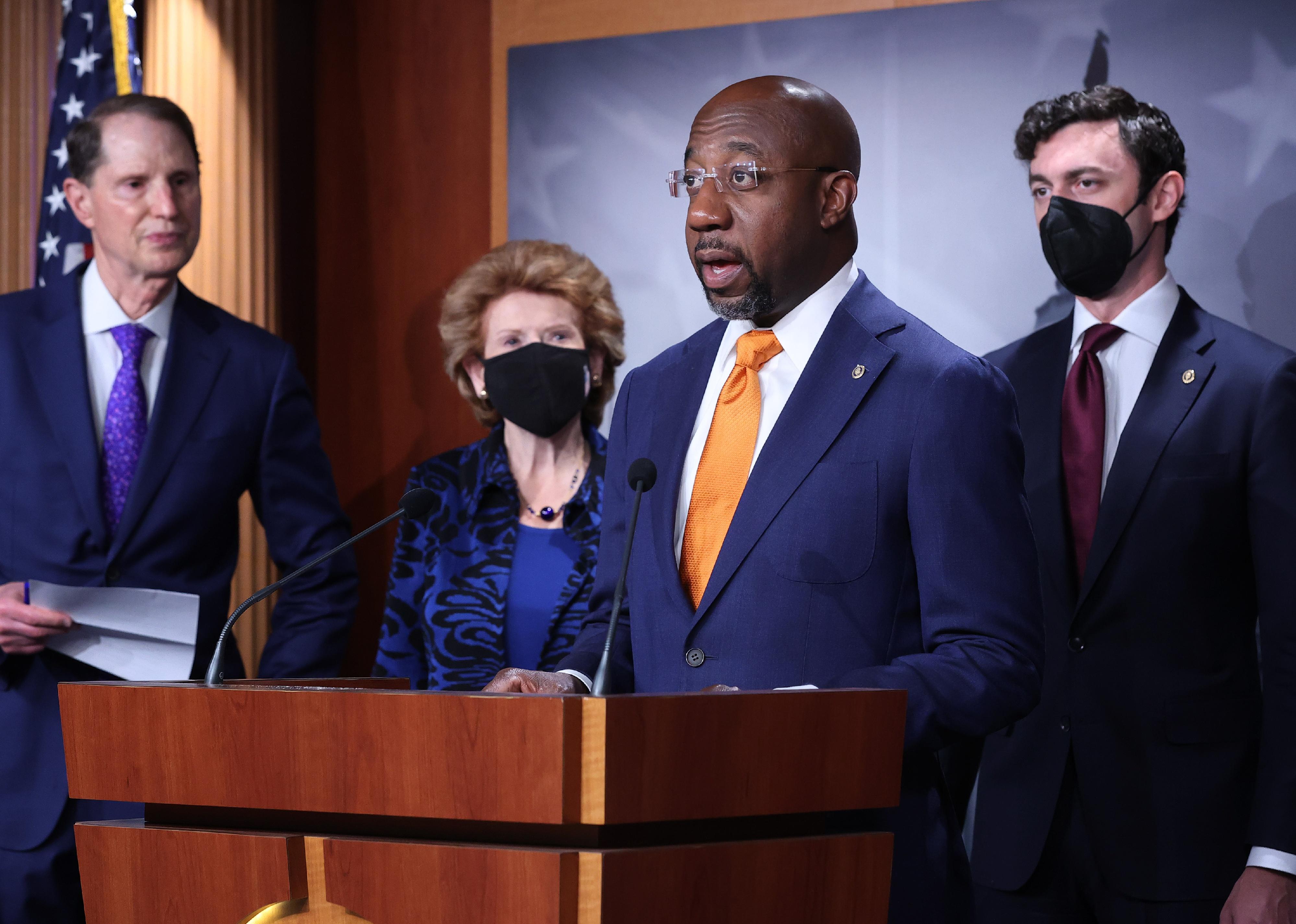 Chip Somodevilla // Getty Images
Besides the measures couched in the Inflation Reduction Act, the Biden administration also expanded legislation directed towards combating climate change and increasing renewable energy, which offers further incentives for consumers to invest in the solar market. The legislation increased the federal tax credit for solar energy from 26% to 30% through 2032 on any new solar installation for a house, houseboat, mobile home, condominium, or cooperative apartment. There is no cap on the amount that can be claimed relative to the cost of installation. Additionally, solar consumers can often claim state tax credits as well.
Though solar markets are still largest on the West Coast, panels are being installed across the country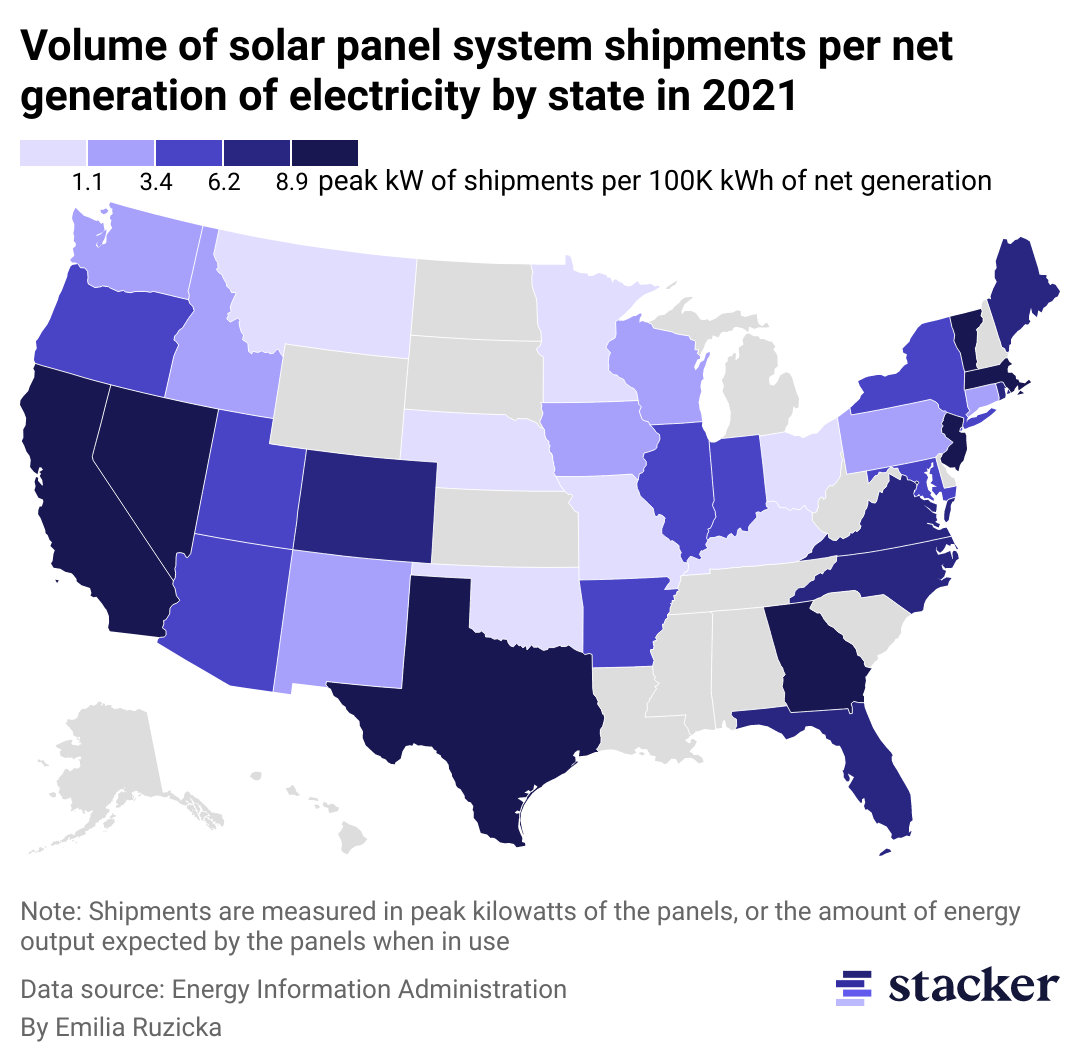 Emilia Ruzicka
California has long led the country in adopting solar-centric energy systems, importing 5.09 million peak kilowatts of solar energy in 2021. Western states are generally more receptive to switching over to solar energy, with 62% of residents in the Pacific U.S. having seriously considered or already installed systems in their homes.
California is followed closely by Arizona and Texas as the top solar electricity-generating states. However, this trend is progressively spreading eastward, with states along the Atlantic Coast now close to matching the West Coast in solar energy capacity. Massachusetts, New York, New Jersey, Virginia, North Carolina, South Carolina, Georgia, and Florida all exceed 1,000 megawatts of capacity, with many going beyond 4,000 megawatts.